Hospital & Home Drug Test Kit
INTRODUCTION
Hospital and Home (H&H) is the brand name for Primly Services Ltd Nigeria Drug Test Kits.
H & H kits are NAFDAC approved kits for testing for drugs of abuse in urine.
Our Kits have been made to serve both Medical and Family Settings, hence the name - "Hospital & Home".
They are easy to use, require only urine sample and can be used in the convenience of homes.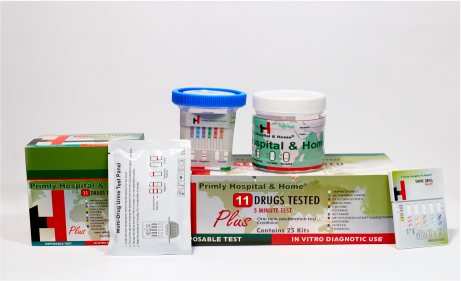 The Urine Drug Test Kit is a self-administered kit that is used to determine whether an individual has engaged in any form of drug abuse.
It uses urine as the sample to be tested and can test for 11 different drugs. These 11 different drugs it tests for include;
• Amphetamine
• Methylenedioxymethamphetamine
• Benzodiazepines
• Marijuana
• Cocaine
• Ketamine
• Methamphetamine
• Morphine
• Opiates
• Tramadol
• Use Urine sample

• NAFDAC approved

• Result in 5 minutes

• Includes an adulteration test. This creatinine test helps to detect adulterated urine samples

• Simple, Quick and Precise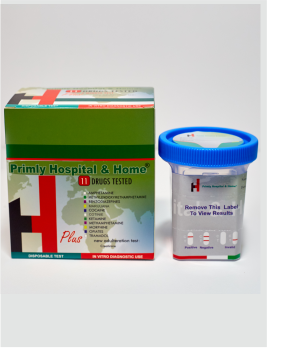 The Q-Cup UDT is an aesthetic test kit of the H&H test kit family.
This kit come in a Cup form that allow easy Urine sample collection.
It is recommended for Homes, Hospitals, and Side Laboratories and tests for the presence of 11 substances: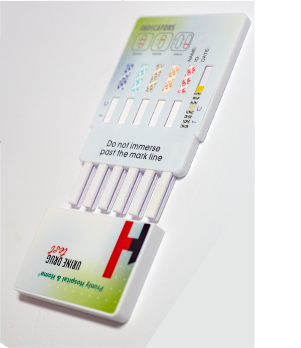 The Cartridge UDT Kit test for 11 substances.
This kit comes in a Cassette like form and requires an external cup to collect Urine sample.